1900
Wuhu Shipyard Co., Ltd
For many years, Wuhu Shipyard has been pursuing the diversified business strategy, and has built hundreds of advanced military ships for Chinese navy, engineering corps and armed police by right of its excellent product quality and fine workmanship.
Wuhu Shipyard Co., Ltd originating from Fujiheng Machine Plant established in 1900, has a 115-year history and cultural heritage. The late Chinese leaders Mao Zedong, Zhu De, as well as the former premier Li Peng, ever made inspection of the shipyard respectively. With the warm solicitude and strong support from all sides over the years, and with the efforts of all its employees, Wuhu Shipyard Co., Ltd has achieved an unprecedented development. With the long shipbuilding history and rich experiences, Wuhu Shipyard Co., Ltd has ever won many "firsts" in Chinese shipbuilding industry: the first wooden torpedo boat, the first GRP mine sweeping boat, the first marine synthetic research ship, the first 2600HP anchor handling towing supply vessel, hydrofoil passenger boat……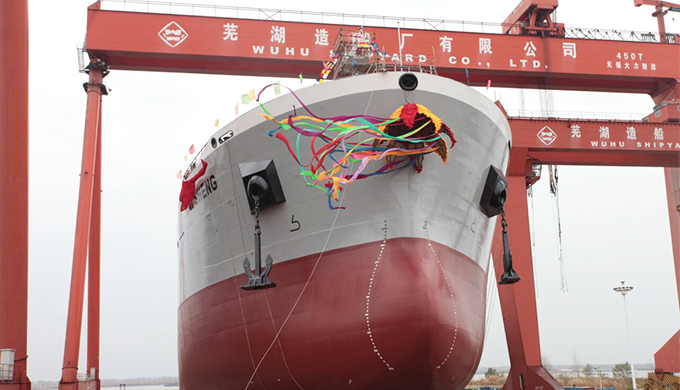 Wuhu Shipyard Co., Ltd has the qualifications for shipbuilding enterprise of Category Ⅰin GradⅠ, and has passed the certifications of ISO9001 Quality Management System and Occupational Health Safety Management System (OHSMS) and so on from the relevant authorities. Wuhu Shipyard Co., Ltd also won the over fifty honorary titles, such as high technology enterprise, Principal-level Technology R&D Center, Innovation Experimental Enterprise, as well as senior qualification enterprises certified by the Customs. Over the years, Wuhu Shipyard has been adhering to the vision of "making military products bigger, strengthening civilian products, and winning non-ship", and has built hundred of advanced ships, such products as fighting ships, patrol boat, mine sweeping boat, large auxiliary ship and new boat bridge for Chinese navy, engineering corps and armed police by right of its excellent product quality and fine workmanship. It has become a major production base for naval and army equipment. Meanwhile, as one of the key shipbuilders in China for export ships, Wuhu Shipyard Co., Ltd has also built various export ships, such as 18,000/24,000 DWT multipurpose heavy-lift vessels, 20,000 DWT multipurpose vessel, 16,500 DWT open hatch box shaped bulk carrier, 30,000 DWT double-skin bulk carrier, 82,000 DWT bulk carrier, 5,000HP icebreaking work vessel, 64M PSV, 70M ROV/diving support vessel, 78M anchor handling tug/supply/ oil recovery vessel, 79M PSV, etc. which were exported to such countries as Germany, England, Greece, etc. and are highly appraised by the Owners at home and abroad.  With its strong technical strength and building level, Wuhu Shipyard Co., Ltd has built many fine products, such as the advanced marine synthetic research ship "Li Siguang" boat, second prize of national defense science and technology-636 coastal and offshore survey ship. The GQP130 boat bridges, which won the first prize of military science and technology progress of the general armament department, have ever attended the emergency rescue in the Wenchuan Earthquake and the wreck accident of the tourist ship Dong Fang Zhi Xing. The new type bridge boat being developed by the shipyard will become the key product of the logistic support of engineering corps. It has the capability of army equipment research and development, design, production and test. Wuhu Fujiheng Machinery Co., Ltd, a subsidiary company under Wuhu Shipyard Co., Ltd, is one of the key non-ferrous casting enterprises in China, and its main products include bronze bell, bronze Buddha, bronze work of art, copper water jacket, copper propeller, etc. The self-developed pure copper water jackets of high conductivity reach the advanced world levels and are widely used in steel and metallurgical industries, and are awarded the honorable titles "National Science Advance Prize" and "National Key New Product Prize". A century-old Wuhu Shipyard regards the revitalization of the national shipbuilding industry as its own duty, and will try its best to build itself a first-class enterprise of international high-end marine platform supply vessels, a shipbuilding base of military ships and a leader in China's copper water jacket casting industry.