Recently, the 7000 dwt ROLO ship and 5800 dwt multi-purpose ship built by Wuhu Shipyard Co., Ltd., with outstanding advantages in green, environmental protection, energy conservation, and other cutting-edge aspects, were selected in the 《Significant Ships of 2022》released by the Royal Institution of Naval Architects(RINA). Wuhu, by virtue of two remarkable ships stood out in s total of 33 types selected worldwide, further demonstrating the construction strength and Innovation ability of "Wuhu Shipbuilding" in the world's green powered ship field and brand strength of " Wuhu Shipyard with Hundred Years History" among world shipbuilding companies.

The Royal Institution of Naval Architects (RINA), founded in 1860 and headquartered in London, is a world-renowned international professional academic institution. Members of RINA are located in over 90 countries worldwide and have extensive representation in universities and IMO organizations around the world. This institution mainly provides various professional technical information to personnel engaged in ship and marine engineering design, manufacturing, maintenance, and management worldwide through the issuance of high-quality technical journal books, academic conferences, and other means, and has a high reputation in the maritime industry. The experts of the society conduct annual inspections on a large number of registered ships, and comprehensively evaluate them based on ship types, performance indicators, energy conservation and environmental protection, especially innovation and commercial foresight. Strict and multiple screening can finally form an authoritative list of world famous ships.
Leading the "new force" in the manufacturing of new energy powered ships
Under the background of global carbon peak and carbon neutrality, green, energy-saving and environment friendly dual fuel ships are one of the most popular low-carbon technology development directions for ships in recent years. Wuhu Shipyard actively promotes the application and development of ESG oriented in the entire process of enterprise product development and construction, practicing the ideal of "green shipbuilding". Since 2017, the company has arranged for the development of dual fuel ship types in advance, successfully signing LNG dual fuel chemical ships with the Swedish shipowner Donso Shipping, and LNG dual fuel multi-purpose ROLO ships with the shipowner BORE of the Dutch shipowner Spliethoff Group as well as Wijinne Barends signed LNG dual fuel multi-purpose ships, then LNG dual fuel asphalt/product oil ships with the French shipowner COLAS group, LNG dual fuel multi-purpose ships with the Finnish shipowner Langh ship. In the construction of various types of ship, the production and technical personnel of the company have successively overcome key difficulties in technological research and development, gradually forming a complete and independent development and design capabilities for dual fuel power ship types. Wuhu have output complete standard documents for the construction of LNG dual fuel ships, and based on the construction of LNG power ships, a dedicated research and development team has been set up to develop more clean fuel ships such as methanol dual fuel. We look forward to using low-carbon technology innovation as the booster, Promoting product iteration, assisting in enterprise transformation and upgrading, and accelerating the development of the global dual carbon and dual integration industry.
Tntroduction for the listed
"Bore Way"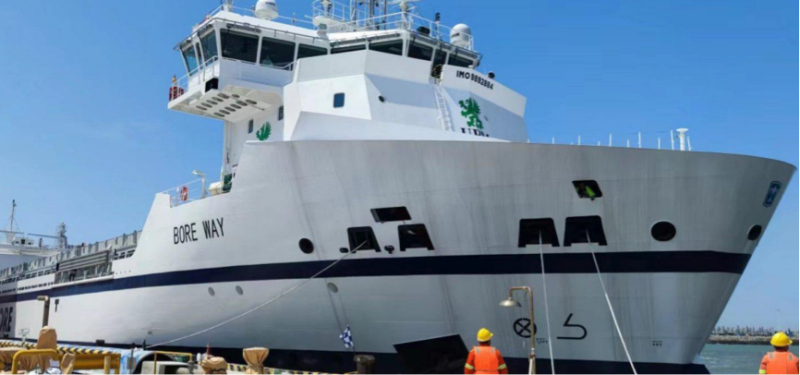 She is a 7000 dwt ROLO built by Wuhu Shipyard for the Finnish shipowner Bore. The ship has an overall length of 121.89 meters, a molded width of 21 meters, a designed speed of 13.5 knots, a LNG storage tank capacity of 250 cubic meters, and a HFO/MGO storage tank capacity of 295 cubic meters. It is equipped with a 34DF eight cylinders dual fuel engine produced by Wartsila. It is driven by a single propeller with a Finnish/Swedish 1A ice zone strengthening symbol.
"Lady Marie Christine"
As one of the first dual fuel multi-purpose ships in Europe to use LNG as the main fuel for short distance transportation. Lady Marie Christine has an overall length of 115 meters and a deadweight of 5900 dwt.
She adopts a series of state-of-the-art efficiency improvement measures. She and her sister ships are equipped with dual fuel engines, designed to use LNG and traditional marine diesel. The optimized hull design minimizes water resistance and combines controllable pitch propellers. The optimized propulsion and frequency control drive shaft generator allows the main engine to operate at the optimal speed and the propeller to operate at the optimal pitch. Simultaneously equipped with a waste heat recovery system.
The waste heat recovery system plays a crucial role in the overall energy efficiency concept. It reduces fuel consumption and carbon emissions by using the heat from the main and auxiliary engines to heat all internal spaces and hot water systems. Sailing in the Baltic Sea in winter requires a lot of heat, and finding a way to transfer heat from the rear engine room to the front deck room and crew quarters is somewhat difficult. However, with good insulation, the desired effect can be easily achieved.
In order to maximize the available cargo space and the types of cargo that can be carried, the "Lady Marie Christine" only has a front deck room, ensuring unobstructed visibility of the bridge and a large deck space suitable for storing oversized cargo. The "Lady Marie Christine" and her sister ships have uncovered markings and are certified to carry heavy and/or bulk cargo that is not suitable for cargo hold or cannot be transported on deck at a draft of 5.5 meters. Compared to similar ships, the arrangement of this ship increases the available cargo hold on the deck by 25%, which means it is available for large project cargo with a length exceeding 80 meters (such as wind turbine blades).