In order to further improve the level of intellectual property management, enhance the ability of patent mining, and enhance the core competitiveness of enterprises, the Science and Technology Innovation Office of the Party and General Management Center invited training lecturers of Wuhu Anhui Intellectual Property Agency Co., Ltd. to come to our company to deliver patent lectures on the afternoon of August 8th. Related technical personnel from production and operation center, technical quality center, and defense equipment center participated in the training.
Before the meeting, Tao Qing, manager of the Science and Technology Innovation Office, made a mobilization speech and pointed out that patent applications are of great importance to the promotion of individual and the improvement of corporate competitiveness. He hopes that everyone can carefully summarize the innovation highlights in daily work through this training, and be good at discovering and excavating. The the Science and Technology Innovation Office will also actively cooperate with various departments to apply for patents.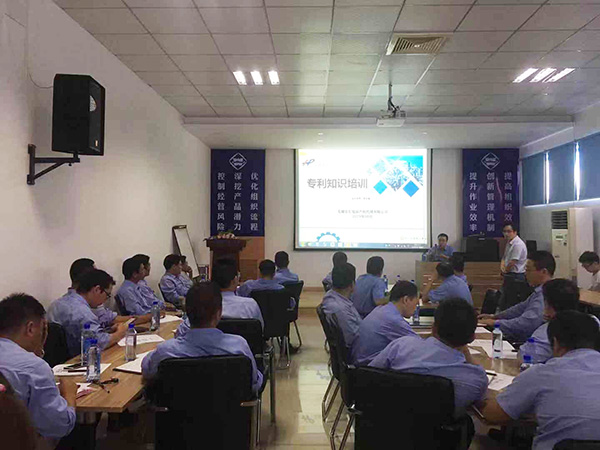 During the training period of more than two hours, the training lecturer Mr. Jiang focused on the current national policy and development direction in intellectual property. At the same time, he elaborated on three aspects of patent basic concepts, patent mining and technical writing. By adopting a combination of theoretical and practical case analysis, the participants got the basic knowledge about how to discover the patents, and the precautions and methods for writing the technical essays, laying the foundation for the patent application in the second half of the year. After the meeting, the trainers and the trainees exchanged face-to-face and the trainers answered the doubts of the students.
Through this special training of patent knowledge, the theoretical knowledge level of the participants has been enriched, the sense of innovation has been enhanced, the innovative ideas have been enlightened, the quality of patent declaration has been further improved. It actively promoted the patent application work of our technicians.