On September 4th, Wuhu Shipyard Co., Ltd. held a start-up and training meeting for the informatization and industrialization integration management system (hereinafter referred to as"two-oriented integration" project). Zhang Zhao - general manager of the company, directors of each center, heads of each module, the project team members and the representatives of the coaching training attended the project kick-off meeting. The meeting was hosted by Pan Yuhong, representative of the two-oriented system managers.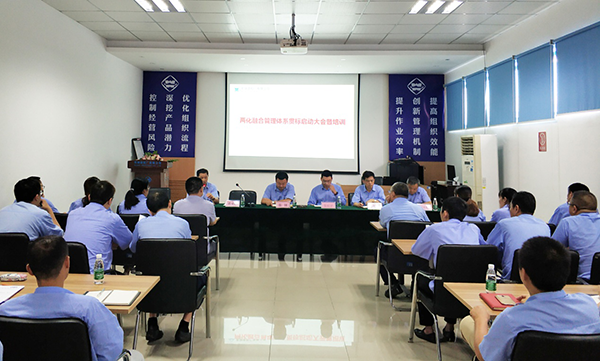 Promoting the integration and development of informatization and industrialization has important historical significance for the century-old Wuhu shipyard. We must establish a two-oriented integration management system, continue to build a new capability under the information environment of Wuhu Shipyard, grasp the digital and intelligent development trend, fully apply new technologies and new ideas, bring into play the potential innovative data elements, promote and realize the interactive innovation and continuous optimization of data, technology, business processes and organizational structure, and tap the potential of resource allocation, thus achieving innovative development, intelligent development and green development.
Pan Yuhong, representative of the managers of the two-oriented integration system, said that the project will gradually integrate other systems of the company, integrate the company's integrated construction and development platform, and make lean management and control capabilities as the leading direction.
Zhang Zhao, general manager of the company, deployed the two-oriented integration work, Zhang stressed:
"Promoting the two-oriented integration management system is of great significance to the company's sustainable development, and it is also the need of future competition. It is necessary to sharpen the firewood without erroneously cutting the firewood. It is necessary to effectively combine the integration of the two technologies with the current management work and achieve integration and promotion.
We should be clear about the work ideas, guidelines and goals, formulate management documents, and grasp the control links to prevent misunderstandings and false practices focusing on the form.
With the help of the two-oriented management system, we can use scientific and effective methods to gradually promote the in-depth integration of the informatization and industrialization technologies at Wuhu shipyard.
All colleagues in the company must attach great importance to and support the company's work, and do a good job of implementation. "
The coaching training representative Huang Hua explained the standards and certification process of the two-oriented integration management system.