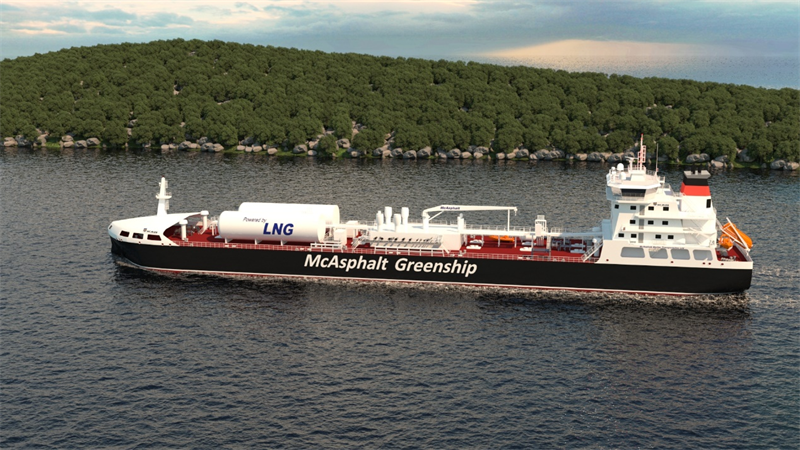 At the end of April 2021, Wuhu Shipyard Co., Ltd. and McAsphalt signed the shipbuilding contract for one plus one 12000DWT/11700m³ Bitumen / Oil Product Tanker. The Owner, McAsphalt and her mother company, is the largest dealer in bitumen industry in Canada. This new building project is designed for bitumen transportation connecting ports in the Great Lakes and Eastern Seaboard, and it will also serve as an important link in the mother company's global strategy of bitumen supply.
The 12,000DWT/11,700m³ Bitumen / Oil Product Tankers is designed by FKAB, with overall length of 140 meters, moulded width of 23.75 meters and moulded depth of 11.7 meters, under BV Classification and with Canadian Flag. The vessel is tailor-made for bitumen heating up to 200°C, while maneuvering in the river and lake waterways: the dual fuel twin screw controllable pitch propulsion system with shaft generators made high energy efficiency possible for all voyage condition; with additional battery UPS and an auxiliary generator, the electrical system is so reliable that no blackout can ever take place; ensured by two separate dual fuel cargo heating system, satisfying processed bitumen will always be ready to off load at destination port; and last but not least, all emission onboard complying with IMO Tier-III will limit her impact on environment to the minimum.
This is another new building order for bitumen tanker, after the Shipyard's last secured project of two 21500DWT/21100m³ Bitumen / Oil Product Tankers 4 months ago. These series of orders will enhance the shipyard's product line of the high-tech liquid cargo vessels. The construction and delivery of the tankers will bring world another example for the most advanced vessels in the field of bitumen shipping. This order once again demonstrated that Wuhu Shipyard has been widely recognized by shipowners in the new building market of high-tech liquid cargo vessels, which is the direction the Shipyard will continue to pursue for her business advance.